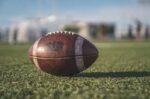 Well, the Carolina Panthers, my favorite NFL team, didn't make the playoffs this year, so I've decided I'm giving up sports. I've had it all. I'm giving up football in the fall, baseball in the summer, and basketball in the winter. Here are all my reasons:
1. Every time I went to football games, they asked for money.
2. The people I sat next to didn't seem friendly.
3. The seats were too hard and not comfortable at all.
4. I went to many games, but the coach never came to visit me in my home.
5. The referees made decisions that I couldn't agree with.
6. The game went into overtime, and I was late getting home.
7. The band played songs I'd never heard before, and it wasn't my style of music.
8. It seems the games are always scheduled when I want to do other things.
9. I always managed to sit next to hypocrites. They came to see their friends, and they talked during the whole game.
10. I was taken to too many games by my parents when I was growing up.
11. They never asked me to participate or get involved.
12. I hate to wait in the parking lot traffic jams after the game.
(Bruce's note: Funny, but somehow I feel like I've heard all these excuses before!)
In the name of the One who can do immeasurably more than all we ask or imagine,
Bruce Jones, Pastor and Co-Creator,
Imagine Church of the Carolinas